28th & 29th August 2021
Windsor Gem and Mineral Expo.
The Windsor Function Centre 
4th & 5th September 2021
Blue Mountains Crystal, Mineral & Craft Festival.
Blackheath Community Centre 
11th & 12th September 2021
National Opal and Crystal Festival,
Albert Hall Canberra. 
Saturday 25th to Sunday 26th September 2021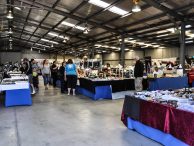 GEMKHANA, NSW Annual Gem and Lapidary Show

Hawkesbury Showground, Clarendon
9am – 5pm Saturday 25th & Sunday 26th September
Hand crafted Jewellery, Faceted Stones, Polished Stones (Cabochons), Stone Carving, Minerals & Fossils.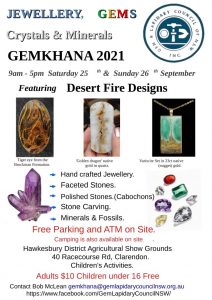 Free Parking and ATM on Site.
Camping is also available on site, Hawkesbury District Agricultural Show Grounds, 40 Racecourse Rd, Clarendon.

Children's Activities.
Adults $10 Children under 16 Free
Flyer: GEMKHANA 2021 Flyer
https://gemlapidarycouncilnsw.org.au/gemkhana/
Sat 2nd to Mon 4th October 2021
The 43rd Annual Joint Miner-alogical Societies of Australasia Seminar
Ryde-Eastwood Leagues Club in Ryedale Rd, West Ryde.
The theme is "43 Shades of Silver"
George Laking bglaking@tech2u.com.au
more info will be published as it comes to hand on www.minsocnsw.org.au 
Sat 16th & Sun 17th October 2021
Central Coast Crystal, Gem & Jewellery Show,
Mingara Event Centre, Wyong Rd Tumbi Umbi.
Open Sat 9am to 5pm & Sun 9am to 4pm.
Sat 30th Oct – Sun 31st Oct 2021
Canberra Lapidary Club Gem Show
Winter & Spring Gemcraft & Mineral Shows Spring Show :
Sat 30 Oct – Sun 31 Oct 2021
10am to 5pm Sat and 10am to 4pm Sun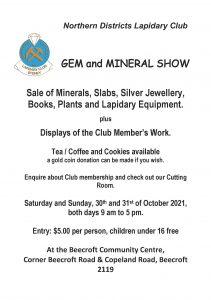 Sat 30th – Sun 31st of Oct 2021
The Northern District Lapidary Club's Bi-Annual Exhibition and Gem Show
will be held on Sat 30th and Sun 31st of October 2021 at the Beecroft Community Centre in Beecroft, NSW 2119.
It will run both days from 9 am to 5 pm.
Flyer Flyer for 2021 NDLC Gem and Mineral Show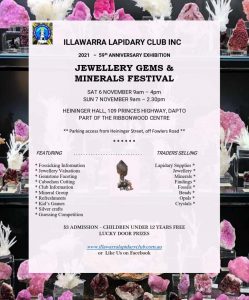 Sat 6 Nov and Sun 7 Nov 2021 Illawarra Lapidary Club Inc. – Jewellery Gems and Minerals Festival
When: Sat 6 Nov 9am – 4pm and Sun 7 Nov, 9am to 2.30pm
Where: Heininger Hall, Ribbonwood Centre, 109 Princes Hwy, Dapto
Entry: Adults $3, children under 12 years free
Featuring: Gemstone Faceting, Cabochon Cutting, Silvercrafts, Jewellery Making and Valuations, Mineral Group displays, Club and Fossicking Information, Refreshments, Raffle, Lucky Door Prizes and Kid's Games.
Trader's Selling: Lapidary Supplies, Minerals, Jewellery, Crystals, Findings, Fossils, Beads and Opals. Flyer Flyer Exhibition Nov 2021 Illawarra
http://www.illawarralapidaryclub.com.au/ Or Like Us on Facebook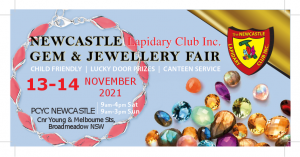 Saturday 13th and Sunday 14th Nov 2021
Gem and Jewellery Fair 
Newcastle Lapidary Club will be holding its annual Gem and Jewellery Fair on Saturday 13th and Sunday 14th November, at Newcastle Police Citizens Youth Club (PCYC), corner Young Road and Melbourne Road Broadmeadow.
Demonstrations and displays of lapidary and jewellery-making A variety of tools, jewellery, gemstones and lapidary material and related craft for sale.
A full canteen service available. FREE admission and parking.
Newcastle Lapidary Club Show 2021_FLyer_V1_12273
https://www.facebook.com/Newcastle-Lapidary-Club-616736661717997/
13th & 14th November 2021
Hornsby Crystal, Mineral, Fossil & Craft Festival
Hornsby Memorial Hall 
27th & 28th November 2021
Carlingford Gem & Mineral Expo.
Roselea Community Centre.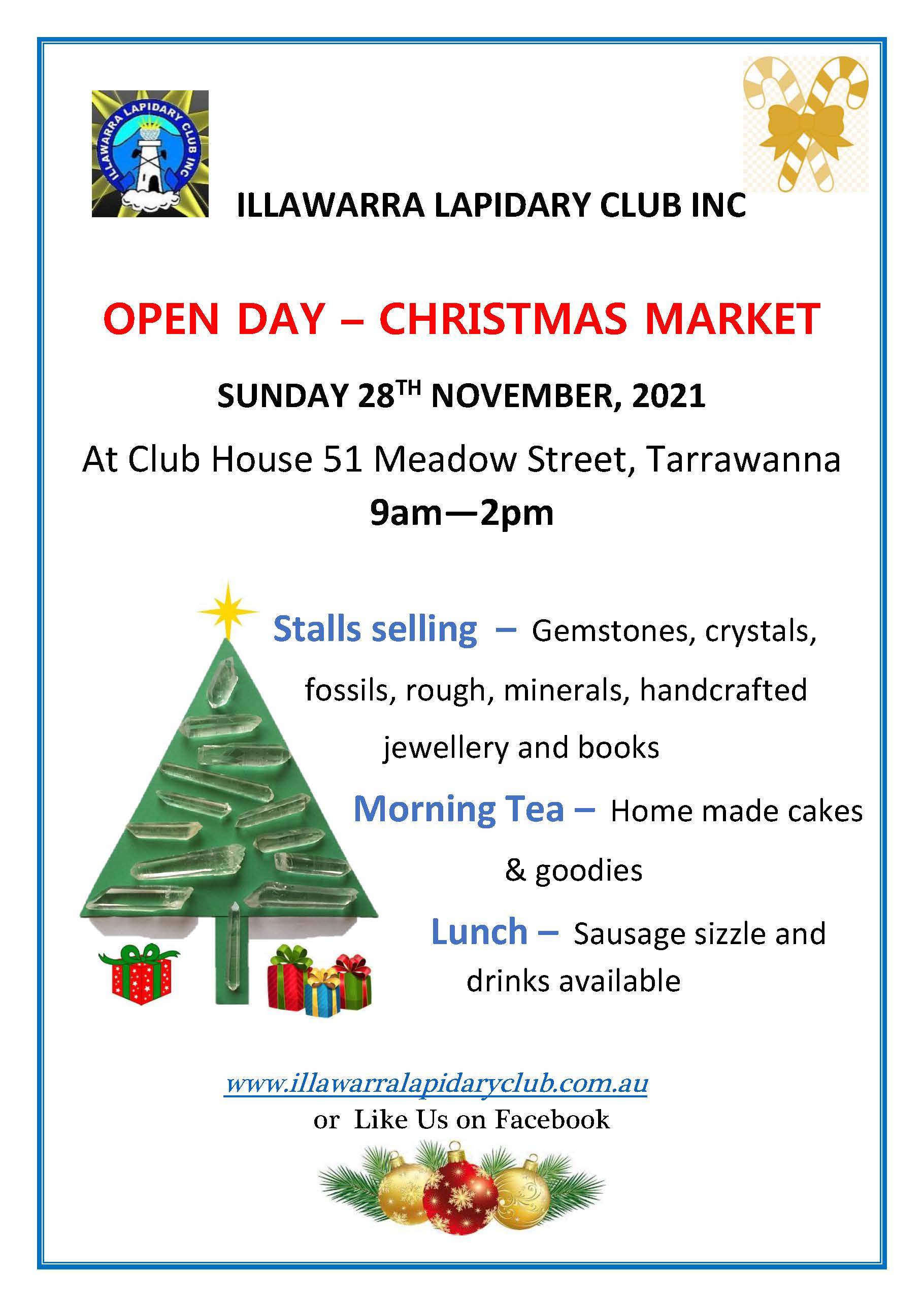 Sunday 28 November, 2021
"Open Day" Christmas Market – Illawarra Lapidary Club Inc
51 Meadow Street, Tarrawanna 2518
Sunday 28 November, 2021 – 9am to 2pm – FREE ENTRY
Stalls selling Crystals, Minerals, Fossils, Lapidary Materials and Jewellery.
Morning Tea and Sausage Sizzle Lunch available.
Enquiries: John Ph: (02)42675618
Flyer: Flyer – Christmas Open Day 28 Nov 2021
Fri 15 April to Mon 18 April 2022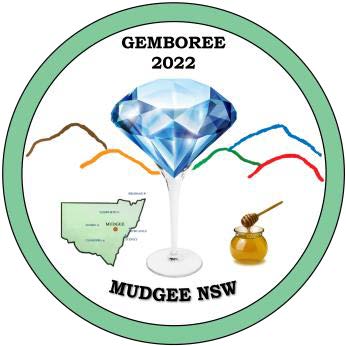 GEMBOREE 2022
The 58th National Gem & Mineral Show will be held over Fri 15 April to Mon 18 April 2022 at MUDGEE NSW.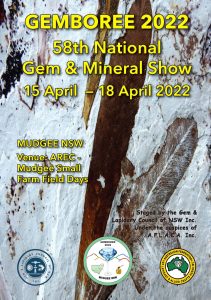 The Venue is at the Australian Rural Education Centre (AREC) 267 Ulan Road Bombira NSW 2850 (located 2.5 kms north of Mudgee township).
Details https://aflaca.org.au/gemboree/