Sunday 28th February, 2021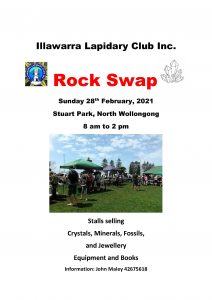 Illawarra Lapidary Club Inc – Rock Swap
At Stuart Park, George Hanley Drive, North Wollongong Between 8am and 2 pm Club members and others will be selling Jewellery, Gemstones, Cabochons, Minerals, Opals, Findings, Beads & Fossils and maybe some Lapidary equipment.
Come along for a great day. For more information contact John on 0242675618
Illawarra Lapidary Club Flyer 2021
http://www.illawarralapidaryclub.com.au/ or like us on Facebook
13 – 14 March 2021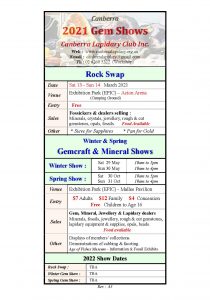 Canberra 2021 Rock Swap
2021 Canberra Lapidary Club Gem Show flyer. 
Our next event, the Rock Swap, will be held outdoors, COVID-19 restrictions permitting, on 13 & 14 March 2021.
Sat 20th March – Sun 21st March 2021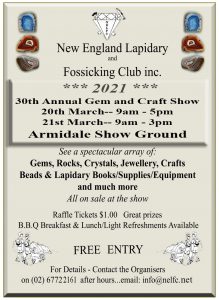 New England Lapidary and Fossicking Club Inc 2021
30th Annual Gem and Craft Show
Sat 20th March 9am – 5pm Sun 21st March 9am – 3pm
Armidale Show Ground
See a spectacular array of gems, rocks, jewellery, crafts, beads and lapidary books/supplies/equipment and much more. All on sale at the show.
Raffle Tickets $1.00 Great Prizes
B.B.Q Breakfast & Lunch/Light Refreshment Available
Free Entry
For details contact the organisers on (02) 6772 2161 after hours.
Annual Gem and Craft Show Flyer
Email info@nelfc.net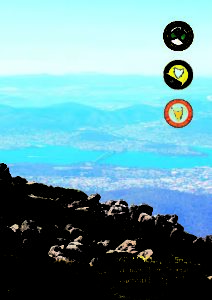 2nd to 5th April 2021 GEMBOREE 2021
GEMBOREE 2021 will be held at Hobart Show Grounds, Glenorchy from 2nd to 5th April 2021.
Details of GEMBOREE 2021 will be posted on the AFLACA on Sunday 12th April 2020 https://aflaca.org.au/
23-25 April 2021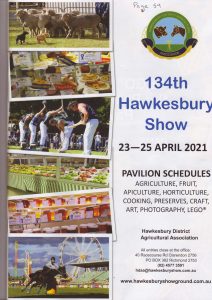 134th Hawkesbury Show 23-25 April 2021 
Hawkesbury Showground

Closing Dates Hawkesbury Show 2021
Sat 29 May – Sun 30 May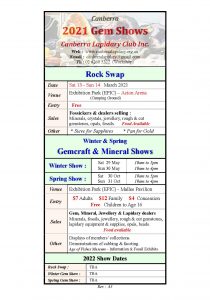 Canberra Lapidary Club Gem Show
Winter & Spring Gemcraft & Mineral Shows Winter Show :
Sat 29 May – Sun 30 May
10am to 5pm Sat
10am to 4pm Sun
Sat 30 Oct – Sun 31 Oct 2021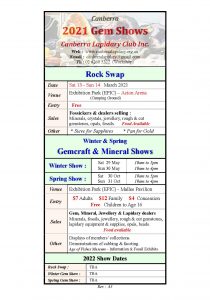 Canberra Lapidary Club Gem Show
Winter & Spring Gemcraft & Mineral Shows Spring Show :
Sat 30 Oct – Sun 31 Oct 2021
10am to 5pm Sat
10am to 4pm Sun