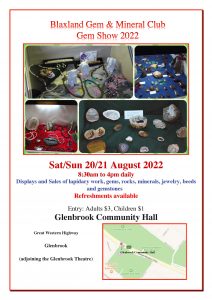 Sat 20th and Sunday 21st August 2022
Blaxland Gem & Mineral Club Annual Gem Show
8:30am to 4pm daily
Displays and Sales of lapidary work, gems, rocks, minerals, jewelry, beads and gemstones
Refreshments available
Entry: Adults $3, Children $1
Glenbrook Community Hall
Great Western Highway Glenbrook (adjoining the Glenbrook Theatre)
Flyer Blaxland Gem Show 2022 flyer

Sat 27th & Sun 28th August 2022
Windsor Gem & Crystal Expo.
Windsor Function Centre, Dight St Windsor 2756
With everything from Amber to Zircon on display and sale you will find Gemstones, Jewellery, Mineral Specimens, Crystals, Settings, Metaphysical needs, Terrariums, Candles and sooooo much more!
The Hawkesbury Valley Lapidary Club will be there with some displays of their work as well as for sale.
The Windsor Function Centre has in house catering so you can get a cuppa or a light meal while you are there!
The Expo opens at 9:30 on both the Saturday & Sunday and closes at 5 on Saturday and 4 on the Sunday.
Entry is $8.00 and kids under 16 with a parent get in for free.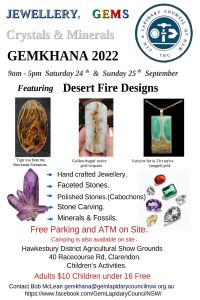 24th & 25th September 2022
GEMKHANA 2022, NSW's Annual Gem and Lapidary Show
9am – 5pm Saturday 24th & Sunday 25th September 2022 at Hawkesbury Showground.
Featuring Desert Fire Designs, Hand crafted Jewellery, Faceted Stones, Polished Stones (Cabochons), Stone Carving, Minerals & Fossils.
Free Parking and ATM on Site. Camping is also available on site. Hawkesbury District Agricultural Show Grounds 40 Racecourse Rd, Clarendon.
Children's Activities. Adults $10 Children under 16 Free
Contact Bob McLean gemkhana@gemlapidarycouncilnsw.org.au
Facebook https://www.facebook.com/GemLapidaryCouncilNSW/
Schedule for GEMKHANA Competition 2022
GEMKHANA Leaflet 2022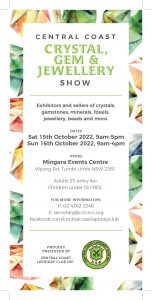 Sat 15th & Sun 16th October 2022
Central Coast Crystal, Gem & Jewellery Show
Mingara Event Centre, Wyong Rd, Tumbi Umbi 2261
Exhibitors and sellers of crystals, gemstones, minerals, fossils, jewellery, beads and more.
Sat 15th Oct 2022, 9am-5pm, Sun 16th Oct 2022, 9am-4pm
At Mingara Events Centre Wyong Rd, Tumbi Umbi NSW 2261
Adults $5 entry fee Children under 18 FREE
For more information: P: 02 4362 2246 E: secretary@cclcinc.org
facebook.com/centralcoastlapidaryclub
Flyer CCLC Show_Flyer_Oct_2022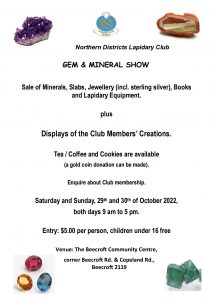 29th & 30th October 2022
Northern Districts Lapidary Club Gem and Mineral Show
Beecroft Community Centre Beecroft
29th & 30th October 2022, both days 9 am to 5 pm
Sale of minerals, slabs, jewellery (incl. sterling silver), books and lapidary equipment plus displays of the club members' creations.
Entry $5.00, children under 16 free.
At the Beecroft Community Centre, Corner Beecroft Road & Copeland Road, Beecroft NSW 2119.
Flyer:  NDLC Exhibition flyer 29-30-Oct-2022
Website: https://ndlapidary.org.au/gem-show-beecroft-nsw/
29th & 30th October 2022
Canberra Lapidary Club Spring Gemcraft & Mineral Show
10am to 5pm Sat, 10am to 4pm Sun
Exhibition Park (EPIC) Mallee Pavilion Entry
$7 Adults $12 Family $4 Concession
Free Children to Age 16 Sales
Gem, Mineral, Jewellery & Lapidary dealers
Minerals, fossils, jewellery, rough & cut gemstones, crystals, opals, beads.
Food available Other
Displays of members' collections.
Demonstrations of cabbing & faceting.
Age of Fishes Museum Information & Fossil Exhibits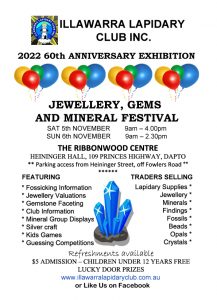 Sat 5th & Sun 6th November 2022
Illawarra Lapidary Club Inc
2022 60th Anniversay Exhibition
Jewellery,Gems and Mineral Festival
SAT 5th NOVEMBER 9am – 4.00pm
SUN 6th NOVEMBER 9am – 2.30pm
The Ribbonwood Centre, Heininger Hall, 109 Princes Highway, Dapto
Parking access from Heininger Street, off Fowlers Road
Featuring – Fossicking Information, Jewellery Valuations, Gemstone Faceting, Club Information, Mineral Group Displays, Silver craft, Kids Games
Traders Selling – Lapidary Supplies, Jewellery, Minerals, Findings, Fossils, Beads, Opals, Crystals.
Guessing Competitions .___ __
Refreshments Available
$5 Admission – Children Under 12 Years Free
Lucky Door Prizes
www.illawarralapidaryclub.com.au
Flyer Exhibition Flyer 2022 
or Like Us on Facebook
11th to 13th November 2022
Parramatta/Holroyd Lapidary Club—Exhibition
Fullagar Rd, Wentworthville
12th & 13th November 2022
Newcastle Lapidary Club, Gem & Jewellery Fair
at PCYC Newcastle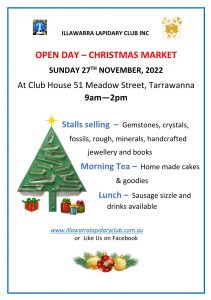 Sunday 27th November 2022
Illawarra Lapidary Club Inc Open Day – Christmas Market
At Club House 51 Meadow Street, Tarrawanna
9am-2pm
Stalls selling – Gemstones, crystals, fossils, rough, minerals, handcrafted jewellery and books
Morning Tea – Home made cakes & goodies
Lunch – Sausage sizzle and drinks available
www.illawarralapidaryclub.com.au
Flyer Open Day Flyer
or Like Us on Facebook
.Honorary webmaster is Alex at webmaster@gemlapidarycouncilnsw.org.au