Sat 17th -Sun 18th April
Greater Sydney Mineral, Fossil, Gem & Crystal Expo
South Windsor, western Sydney, NSW.
The show venue is the Hawkesbury Indoor Stadium, Drummond St, South Windsor.
23-25 April 2021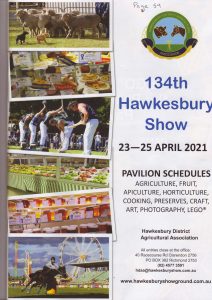 134th Hawkesbury Show 23-25 April 2021 
Hawkesbury Showground

Closing Dates Hawkesbury Show 2021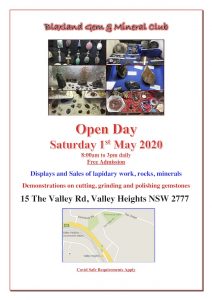 Saturday 1st May 2021
Blaxland Gem and Mineral Club Open Day
Saturday 1st May 2021 8am to 3pm Free Admission
Displays and Sales of lapidary work, rocks, minerals Demonstrations on cutting, grinding and polishing gemstones
15 The Valley Rd, Valley Heights NSW 2777
Saturday 1st May 2021
Central Coast Lapidary Club Rock Auction
The auction will take place on Saturday 1 May 2021 at our club house at 10 Ourimbah Creek Road, Ourimbah NSW 2258. Viewing will commence at 9.00am. The auction will commence at 10.00am. There will be a short break from 12.00 noon until 12.30pm, during which time tea and coffee will be available, and soft drinks will be for sale.
Rock Auction May 2021 List
Sunday 2 May, 2021
"Open Day" – Illawarra Lapidary Club Inc
51 Meadow Street, Tarrawanna Sunday 2 May, 2021 – 9am to 2pm – FREE ENTRY
Club members selling Mineral Specimens, Fossils, Lapidary Materials, Jewellery & more. Morning Tea (proceeds to the Cancer Council's Biggest Morning Tea) and Sausage Sizzle Lunch available. Great Mother's Day gifts available!
Enquiries: John Ph: (02)42675618
www.illawarralapidaryclub.com.au or Like Us on Facebook
Saturday 22nd May 9.00am – 2.00pm
Campbelltown & Districts Lapidary Club Open Day
Free Entry/Kid friendly
Lot 1 Bensley Rd, Macquarie Fields (Next to Hazlett oval)
Come along and see our club. We will be having market stalls showing club members handcrafted jewellery and polished crystals and stones. There will be minerals, fossils, opals, home cooked Greek Treats and Cold Drinks We will also have a sausage sizzle with profits going to the 'Biggest Morning Tea' Readers and Reiki.
Sat 29 May – Sun 30 May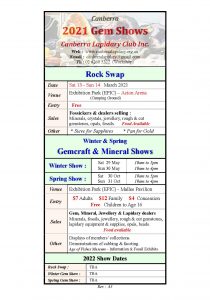 Canberra Lapidary Club Gem Show
Winter & Spring Gemcraft & Mineral Shows Winter Show :
Sat 29 May – Sun 30 May
10am to 5pm Sat
10am to 4pm Sun
Saturday 25th to Sunday 26th September 2021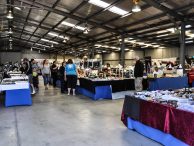 GEMKHANA, NSW Annual Gem and Lapidary Show
Hawkesbury Showground, Clarendon
https://gemlapidarycouncilnsw.org.au/gemkhana/
Sat 30th Oct – Sun 31st Oct 2021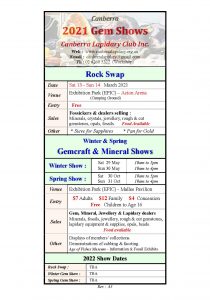 Canberra Lapidary Club Gem Show
Winter & Spring Gemcraft & Mineral Shows Spring Show :
Sat 30 Oct – Sun 31 Oct 2021
10am to 5pm Sat
10am to 4pm Sun
Sat 30th – Sun 31st of Oct 2021
The Northern District Lapidary Club's Bi-Annual Exhibition and Gem Show
will be held on Sat 30th and Sun 31st of October 2021 at the Beecroft Community Centre in Beecroft, NSW 2119.
It will run both days from 9 am to 5 pm.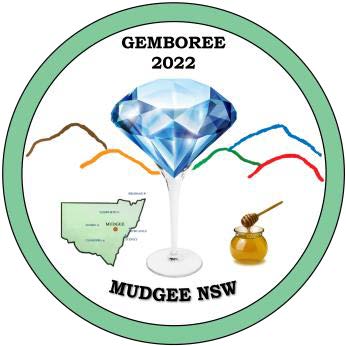 Fri 15 April to Mon 18 April 2022
GEMBOREE 2022
The 58th National Gem & Mineral Show will be held over Fri 15 April to Mon 18 April 2022 at MUDGEE NSW.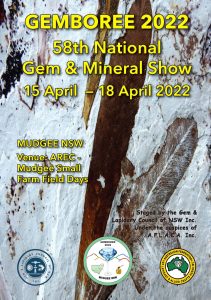 The Venue is at the Australian Rural Education Centre (AREC) 267 Ulan Road Bombira NSW 2850 (located 2.5 kms north of Mudgee township).
Details https://aflaca.org.au/gemboree/