28-29 September 2019 9am-5pm
State Gem, Mineral and Lapidary show GEMKHANA 2019
Hawkesbury Agricultural Society Showground, Clarendon
The GEMKHANA Coordinator is Bob McLean gemkhana@gemlapidarycouncilnsw.org.au
More details on our GEMKHANA page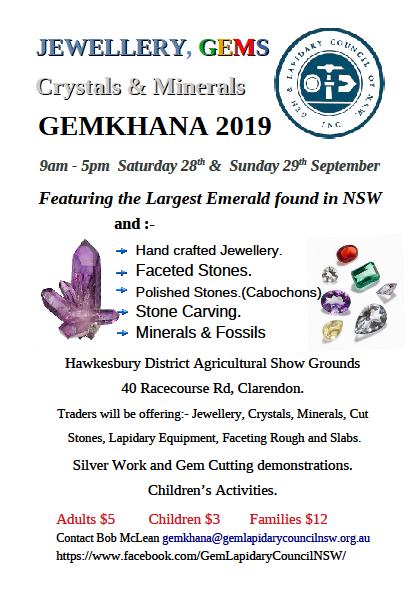 12th and 13th October 2019 9am start $2 entry fee
Central Coast Lapidary Club Annual Gem Show
Mingara Recreational Club, 12—14 Mingara Dr, Tumbi Umbi
Huge range of Lapidary items for sale—a beading table—Displays of fossils, gemstones, jewellery and raw and polished minerals;- and of the Club's work
Saturday 19th October 2019
Parramatta / Holroyd Lapidary Club Inc. Club Open Day
Further details to be announced
Saturday 19th October 2019 9am to 2pm
Campbelltown Lapidary Club Open Day
Lot 1, Bensley Rd, Hazlett Oval, Macquarie Fields
Sat 2 Nov 9am – 4pm and Sun 3 Nov, 9am to 2.30pm
Illawarra Lapidary Club Inc. –  Jewellery Gems and Minerals Festival
Where: Heininger Hall, Ribbonwood Centre, 109 Princes Hwy, Dapto
Entry: Adults $3, children under 12 years free
Featuring: Gemstone Faceting, Cabochon Cutting, Silvercrafts, Jewellery Making and Valuations, Mineral Group displays, Club and Fossicking Information, Refreshments, Raffle, Lucky Door Prizes and Kids' Games.
Dealers Selling: Lapidary Supplies, Minerals, Jewellery, Crystals, Findings, Fossils, Beads and Opals
Enquiries: John (02) 42675618 www.illawarralapidaryclub.com.au
Sat 9 – Sun 10 November 2019
Newcastle Lapidary Club Gem And Jewellery Fair
Time:  Saturday  9am To 4pm,  Sunday  9am To 3pm
Venue:  Newcastle Police Citizens Youth Club (PCYC), Young Road and Melbourne Road Broadmeadow NSW  (short walk from Broadmeadow railway station)
Free Entry And Parking
Details:  Sales of jewellery, gemstones, rocks, beads, tools and related items.
Displays of club activities and demonstrations of lapidary, faceting & jewellery making.
Full canteen facilities available.
Contact: Phone 02 4952 9611 (Tuesdays, Fridays and Saturdays) or email newlap@gmail.com.
About this page
On this page is a brief list of events hosted by member clubs of the Gem and Lapidary Council of NSW and the annual state and national shows in which the Council participates.
Please send updates to this website to webmaster@gemlapidarycouncilnsw.org.au
Details of more events may be found in the G&L News
Articles for G & L News to editor@gemlapidarycouncilnsw.org.au