G & L News – Read the latest edition of G & L News here
Contributions and updates to G & L News can be sent to  editor@gemlapidarycouncilnsw.org.au
Updates to this website may be sent to webmaster@gemlapidarycouncilnsw.org.au
20-21 May 2017
Lismore GEMFEST
Lismore Showground, NSW
http://www.gemclublismore.org.au/wordpress/gem-fest/
Sat 27 – Sun 28 May 2017
Canberra Lapidary Club Winter Gemcraft & Mineral Show
Time :  10.00am to 5.00pm
Venue :  Exhibition Park in Canberra – Mallee Pavilion (indoor)
Cost :  $5 adults, $10 family, $2 children/concession
Details :  Gem, Mineral, Jewellery & Lapidary dealers. Minerals, fossils, jewellery, rough & cut gemstones, lapidary equipment & supplies, opals, beads & supplies.  Food available.  Displays of members' collections, demonstrations of cabbing, faceting & jewellery making.
http://www.canberralapidary.org.au/
Saturday 8 – Sunday 9 July 2017
Campbelltown Districts Lapidary Club Annual Exhibition
Venue: Greg Percival Community Centre
Cnr of Oxford Rd and Cumberland Rd, Ingleburn NSW 2565
Times: Saturday 9.30am – 5.30pm and Sunday 9.30am – 4.30pm
Entry:  General: $5  Children and seniors: $3  Family ticket: $15
Details:  Two huge rooms filled with gemstones, rough and jewellery. Free children's activities.

Saturday 19 – Sunday 20 August 2017
Blaxland Gem & Mineral Club Gem Show
8 am to 4 pm Daily
Displays of lapidary work and gem, mineral and crystal sales.
Refreshments available.
Glenbrook Community Hall
Great Western Highway, Glenbrook, NSW
Just west of Information Centre, next to Glenbrook Theatre
Entry:  Adults: $3  Children $1
Sat 26 -Sun 27 August 2017
White Cliffs Gem Fest and Car Boot Sale
For more information: Jane Stevenson wcma2012@hotmail.com or 0429 601 870

Sat 30 Sep – Mon 2 Oct 2017
GEMKHANA 2017
The annual NSW state gem and lapidary show
Venue: Hawkesbury District Agricultural Showgrounds
Clarendon NSW
See flier below; more details to follow.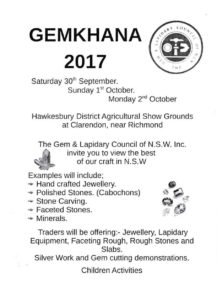 gemkhana 2017 flier larger version
Saturday 14th October 2017
Campbelltown Lapidary Club Open Day
Time: 9.00am – 2.00pm
Venue: Lot 1 Bensley Rd Macquarie Fields
Cost: Free
Details: Gemstones,  jewellery, rough. Come into the club and have a look around.
Sausage sizzle, cakes, slices and Greek delights for sale.
14th – 15th Oct 2017
Central Coast Lapidary Club Annual Gem Festival
Mingara Recreation Club,
Mingara Drive, off Wyong Road, Tumbi Umbi NSW 2261.
Sat 29 – Sun 30 October 2017
Lapidary Club of NSW Inc Annual Show
At Lapidary House, 136 Reservoir St Surry Hills
The Club's annual exhibition of members' lapidary work, with books, jewellery, mineral specimens, rough and polished gems, fossils and crystals available for sale.
Sat 4 – Sun 5 Nov 2017
Canberra Lapidary Club Spring Gemcraft & Mineral ShowTime :  10.00am to 5.00pm
Venue :  Exhibition Park in Canberra – Mallee Pavilion (indoor)
Cost :  $5 adults, $10 family, $2 children/concession
Details :  Gem, Mineral, Jewellery & Lapidary dealers. Minerals, fossils, jewellery, rough & cut gemstones, lapidary equipment & supplies, opals, beads.  Food available.  Displays of members' collections, demonstrations of cabbing, faceting & jewellery making.
http://www.canberralapidary.org.au/
9-11 March 2018
Minerama
Details : www.minerama.com.au/
Easter 2018      30 March – 2 April
The 54th National Gem & Mineral Show, GEMBOREE 2018
Willunga, South Australia
For Newsletters and full details visit http://aflaca.org.au/gemboree/