G & L News – Read the latest edition of G & L News here
Contributions and updates to G & L News can be sent to  editor@gemlapidarycouncilnsw.org.au
Updates to this website may be sent to webmaster@gemlapidarycouncilnsw.org.au
8th to 9th October 2016
Gem and Mineral Festival Central Coast
Saturday, 8th October, 2016 from 9am to 5pm  and Sunday, 9th October, 2016 from 9am to 4pm by Central Coast Lapidary Club, at the Mingara Club, Tumbi Umbi. For further details please phone 02 4362 2246.  Festival organizer is Rob Scott phone number 0405 904 881
14-21 October 2016
Inverell Gem & Craft Show
Various locations around Inverell, NSW
https://sites.google.com/site/inverellsrocksandgems/
15th October 2016
Campbelltown & District Lapidary Club Open Day
Open Day on the 15th October and we will be open from 9am to 2pm.  This day will be held in our club rooms and grounds at Lot 1 Bensley Rd. Macquarie Fields
Friday 28 to Sunday 30 October 2016
Gem and Lapidary Exhibition Beecroft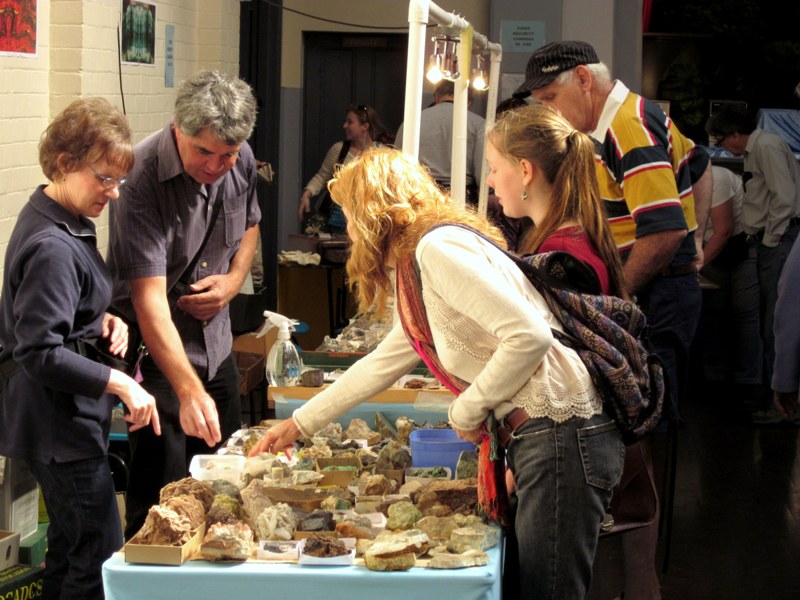 Beecroft Community Centre, Beecroft Friday 28 to Sunday 30 October 2016. Northern Districts Lapidary Club Gem Show – Gems, Jewellery and Minerals Exhibition at Beecroft. Gem show and exhibition, lapidary competition and display, gemstones, minerals, slabs, jewellery, book stall, plant stall, some machinery, club tours, refreshments. Kid's fossicking area.
http://ndlapidary.org.au/gem-show-at-beecroft/

Saturday 29 – Sunday 30 October 2016
Spring Gemcraft & Mineral Show
Saturday 29 – Sunday 30 October from 10am to 5pm at Mallee Pavilion, EPIC.  Entry $5 adults, $10 family, $2 children/concession.
2016 Events Flyer Canberra
Saturday 29 – Sunday 30 October 2016
Come Fossick!
The Lapidary Club of NSW in Surry Hills is holding an exhibition day on Saturday the  29th and Sunday the 30th of October from 10am to 4pm. The title of the exhibition is 'Come Fossick!' Location is 136 Reservoir St, Surry Hills.
Saturday 5th – Sunday 6th November 2016
Illawarra Lapidary Club Exhibition – Jewellery, Gems and Mineral Festival
Saturday 5th November 9am – 4pm and Sunday 6th November 9am – 2.30pm 2016 Heininger Hall, 109 Princes Hwy Dapto $3 admission – Children free – Lucky Door Prizes – Children's games – Raffle. Featuring demonstrations of cabochon cutting, jewellery making, gemstone faceting, silvercraft, jewellery valuations, club and fossicking information, refreshments. Dealers selling lapidary supplies, jewellery, minerals, crystals, fossils, beads and opals. Information David 02 4234 1468 http://www.illawarralapidaryclub.com.au/major-events/
Saturday 5th November 2016
Annual Rock Auction – Cessnock Gem and Mineral Club

Fossils, minerals, crystals, gems Saturday 5th November 2016
Auction commences at 12.30pm, at the clubrooms, Hall Park Stephen Street Cessnock West
Cessnock Gem Mineral Club Flyer
11-13 November 2016
Parramatta-Holroyd Lapidary Club Exhibition
Clubhouse, Fullagar Rd, Wentworthville, NSW
http://www.freewebs.com/parraholroydlapidaryclub/
12th & 13th November 2016
Newcastle Lapidary Club's Annual Gem Show
Saturday 12th Nov (9.00am to 4.00pm) – Sunday 13th November (9.00am to 3.00pm), 2016 at the Club, 2 Dora Rd Adamstown. Sales of gemstones, beads, silver, tools, jewellery, and displays of facetting and jewellery making.
Free entry and parking, devonshire teas, sausage sizzle, tea, coffee and drinks.
26th & 27th November 2016
Windsor Gem & Mineral Fair
Saturday & Sunday the 26th & 27th November 2016 to be held at The Windsor Function Centre, on the corner of George & Dight Streets Windsor. Entry fees are $7 for adults and children under 18 accompanied by parents are free. Gem, mineral, jewellery & lapidary dealers Minerals, fossils, jewellery, rough & cut gemstones, opals, beads & supplies. Kids quiz, Lucky door prize as well as the club raffle held by Hawkesbury Valley Lapidary Club Displays of members' collections, cabbing, faceting and jewellery making demonstrations More info email peter at peterrare@optusnet.com.au
3 & 4 December 2016
Sydney Crystal Show
9am to 5pm, 3 & 4 December 2016. Two full days of incredible natural wonders, unique gifts and treasures. Located at Fraser Park, 100 Marrickville Road, Sydney 350m from Sydenham Station. $10 adults, $5 kids.
Lucky door prizes are up for grabs, great food is available as is FREE parking onsite! See website & Facebook page for more info:
www.sydneycrystalshow.com
www.facebook.com/sydneycrystalshow
18th & 19th March 2017
New England Lapidary & Fossicking Club 26th Annual Gem & Craft Show
18th & 19th March 2017 Armidale Showground, Free Entry
See a spectacular array of Gems, Rocks, Crystals, Jewellery, Gifts, Craft, Fossils, Beads and Lapidary Books,Supplies and equipment all on sale at the show
A Qualified Valuer will be on site.
Raffle Tickets $1.00 Great prizes BBQ Breakfast/Lunch and Light Refreshments Available. Stall Holders welcome Public Liability Insurance Required
For details or to book – Contact the Organisers on (02) 6778 4931 email info@nelfc.net
Website http://nelfc.net/ flyer Armidale Show Flyer 2017
14th – 17th April 2017
GEMBOREE 2017
The 53rd National Gem & Mineral Show, GEMBOREE 2017 will be held in Lithgow, NSW 14th – 17th April 2017
For Newsletters and full details visit http://aflaca.org.au/gemboree/