This page is a brief list of events hosted by member clubs of the Gem and Lapidary Council of NSW and the annual State and national shows in which the Council participates.
Details of more events may be found in the G&L News (link below).
G & L News – Read the latest edition of G & L News here
Contributions and updates to G & L News can be sent to  editor@gemlapidarycouncilnsw.org.au
Updates to this website may be sent to webmaster@gemlapidarycouncilnsw.org.au
17-18 March 2018
New England Lapidary and Fossicking Club Inc Annual Gem and Craft Show
Armidale Showground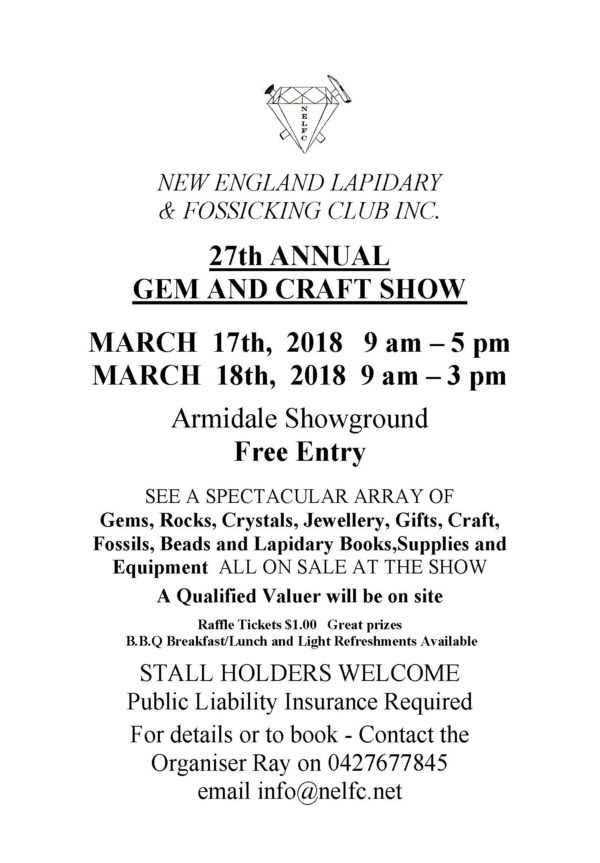 NELFC 2018
24-25 March 2018
Grafton Gems, Minerals and Fossils Show
Grafton Showground
Sat 24 March
Campbelltown & Districts Lapidary Club Open Day
Lot 1, Bensley Rd Macquarie Fields (next to Hazlet Oval)
Open from 9.00am – 2.00pm
Free Entry
Come along and have a look at our club. We have stalls selling rough, mineral specimens, polished stones, handmade jewellery, hand cast sterling silver, opals and bric a brac.
There will be a sausage sizzle and hand made cakes and slices. Come and join us for a look around, a cuppa and a bite to eat.
Easter 2018      30 March – 2 April
The 54th National Gem & Mineral Show, GEMBOREE 2018
Willunga, South Australia
For Newsletters and full details visit http://aflaca.org.au/gemboree/

Sat 21 – Sun 22 April
Blue Mountains Lapidary Club Show
Progress Hall, Great Western Highway, Bullaburra
Hours: Sat 9 til 5; Sun 9 til 3
Small entry fee
August 18th and 19th
Blaxland Gem & Mineral Club Gem Show
Glenbrook Community Hall, Great Western Highway, Glenbrook, NSW
Next to Glenbrook Theatre, just west of Information Centre.
http://www.freewebs.com/blaxlandgemmineralclub/BGMCshow.htm
8 am to 4 pm Daily.
Entry: Adults: $3  Children $1.
Sat 10 – Sun 11 Nov 2018
Newcastle Lapidary Club Gem and Jewellery Fair
Time :  Saturday 9am to 4pm,  Sunday   9am to 3pm
Venue :  Newcastle Basketball Stadium, 27 Young St Broadmeadow NSW  (short walk from Broadmeadow railway station, new indoor venue, much larger and brighter location)
Entry FREE, plenty of parking
Details :  Sales of Jewellery, gemstones, rocks, beads, tools and related items. Displays of club's activities and demonstrations of faceting & jewellery making.  Full canteen facilities available.
Illawarra Lapidary Club Inc. Jewellery Gems and Minerals Festival
Sat 3 Nov 9am – 4pm and Sun 4 Nov 9am to 3pm
Venue:  Heininger Hall, Ribbonwood Centre, 109 Princes Hwy, Dapto
Entry: Adults $3, children under 12 years free
Featuring Gemstone Faceting, Cabochon Cutting, Silvercrafts, Jewellery Making and Valuations, Mineral Group, Club and Fossicking Information, Refreshments, Raffle, Lucky Door Prizes and Kids' Games.
Dealers Selling Lapidary Supplies, Minerals, Jewellery, Crystals, Findings, Fossils, Beads and Opals.
Enquiries: John (02) 4267 5618
http://www.illawarralapidaryclub.com.au/  Or Like Us on Facebook