On this page is a brief list of events hosted by member clubs of the Gem and Lapidary Council of NSW and the annual State and national shows in which the Council participates.
Details of more events may be found in the G&L News (link below).
G & L News – Read the latest edition of G & L News here
Contributions and updates to G & L News can be sent to  editor@gemlapidarycouncilnsw.org.au
Updates to this website may be sent to webmaster@gemlapidarycouncilnsw.org.au
Fliers need to be in jpg, tiff or pdf form please.
Saturday 4th May
Blaxland Gem & Mineral Club annual open day
Date: Saturday 4th May 2019,  8am – 3pm
Venue: 15 The Valley Rd, Valley Heights, NSW 2777
FREE ADMISSION
Displays and sales of Lapidary work, rocks and slabs.
Demonstrations of cutting, grinding and polishing gemstones.
Refreshments available.
Sat 25 & Sun 25 May
Canberra Lapidary Club Winter Gem and Mineral Show
canberra 2019 Winter Show pdf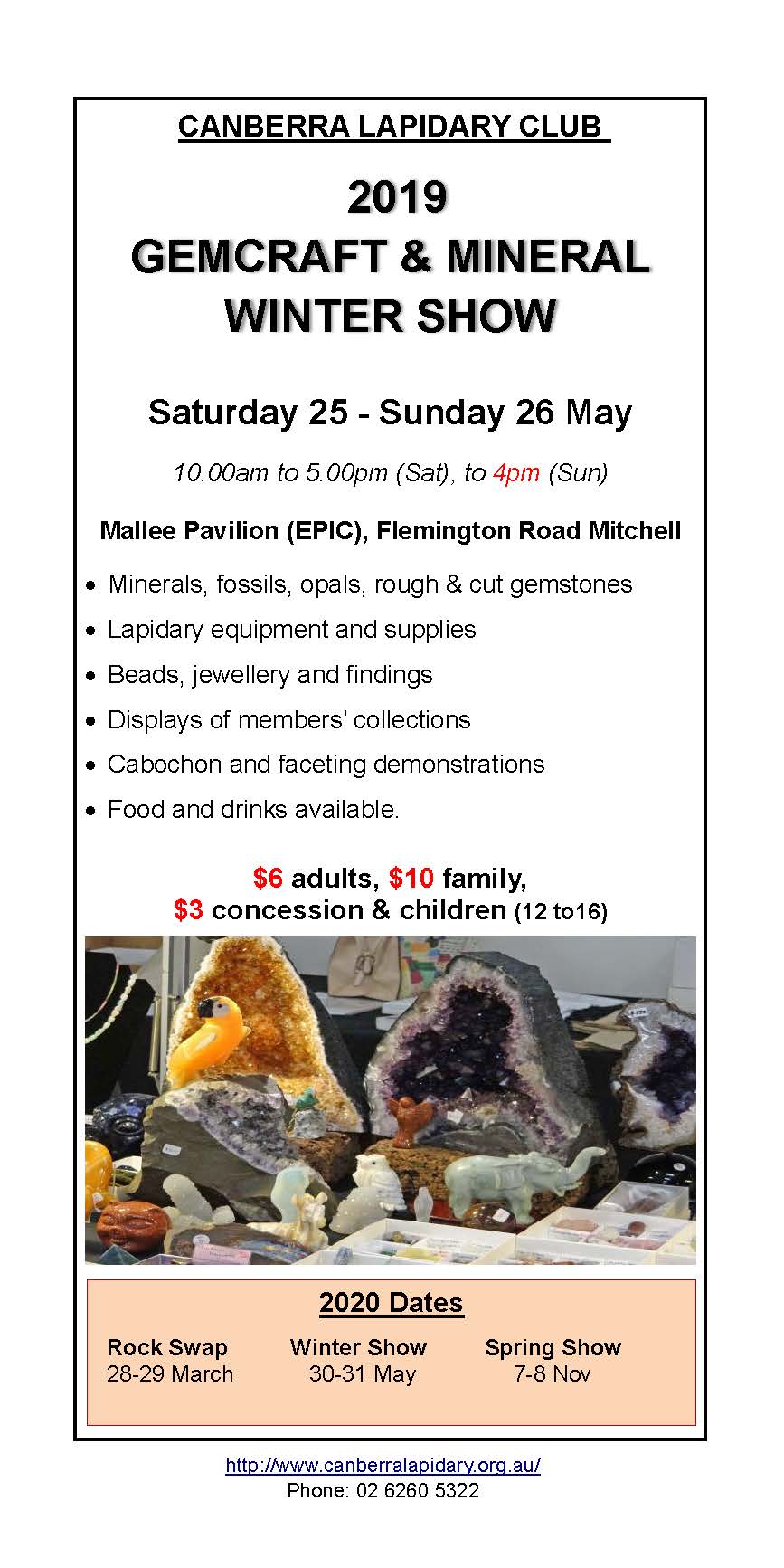 Sat 13 & Sun 14 July
Campbelltown Districts Lapidary Club annual Exhibition and sale
Greg Percival Community Cetre, Ingleburn
Hours: Saturday 9.30am – 5.00pm and Sunday 9.30am – 4.00pm
There will be dealers selling faceting and cabbing rough, hand made jewellery, sterling silver jewellery, mineral specimens, crystals, tools, beads and findings, rough and polished gem stones and opals.
Entry is $5. Children under 12 free (with paying adult)
Free children's activities
28-29 September
State Gem, Mineral and Lapidary show GEMKHANA

Hawkesbury Agricultural Society Showground, Clarendon
The GEMKHANA Coordinator is Bob McLean GEMKHANA@gemlapidarycouncilnsw.org.au
For more details please visit the GEMKHANA page
https://gemlapidarycouncilnsw.org.au/gemkhana/ ‎
Sat 2 Nov 9am – 4pm and Sun 3 Nov, 9am to 2.30pm
Illawarra Lapidary Club Inc. –  Jewellery Gems and Minerals Festival
Where: Heininger Hall, Ribbonwood Centre, 109 Princes Hwy, Dapto
Entry: Adults $3, children under 12 years free
Featuring: Gemstone Faceting, Cabochon Cutting, Silvercrafts, Jewellery Making and Valuations, Mineral Group displays, Club and Fossicking Information, Refreshments, Raffle, Lucky Door Prizes and Kids' Games.
Dealers Selling: Lapidary Supplies, Minerals, Jewellery, Crystals, Findings, Fossils, Beads and Opals
Enquiries: John (02) 42675618
http://www.illawarralapidaryclub.com.au/  Or Like Us on Facebook